After my trip to Park City, and noticing all of the mistakes that were being made by first timers, I feel it is my duty to make these posts.
I have been skiing for about 13 years now. I am a recreational skier from flat country, so I only go once or twice for a few days. So I feel that I represent the typical vacation skier. I can and have skied all terrain, but I prefer the blue and black groomed runs.
I have made every mistake you can when it comes to skiing. I write this post so that all can learn from my mistakes and can get the most out of their ski trip, and will come back to the mountains year after year.
Understand that skiing takes an initial investment. You have to buy some equipment so that you can enjoy your day. You can't just show up on the mountain and expect to have a good time. If you do that, your time will suck, you will have wasted your money, and you will never come back. Don't do that.
This first post will be about what to buy before going skiing. The next post will deal with
fitness
, and the
last post
how to plan the trip, and what to do once you get there.
Before Going
What to Buy
Chest
You first need an understanding of what to wear when skiing. If you go when the snow is best, it will be well below freezing on the mountain. You will be outside for a long time. Skiing is hard work so you will need to prepare for perspiration. Finally, the temperature will change during the day so you need to prepare for that as well. So, what do? You need to learn the concept of layers.
Layers are necessary so that you can add them or remove them as needed. This keeps you comfortable all day long.
First you need what is known as a base layer. The base layer is closest to your skin, and is never removed. I like to use a moisture wicking long sleeve shirt for my base layer. I borrow from my fight wear and wear a long sleeve rash guard, but most people like the Under Armour long sleeve shirts. These work great! My wife uses a Hot Chillies base layer, she says it keeps her warmer.
Men's Hot Chillys base layer: $50
From here you need something that will keep in the heat. I most people will wear a fleece. This garment is designed to keep you warm, not to keep the wind out. I have a PolarTech fleece that I wear, my wife a North Face. Both are good.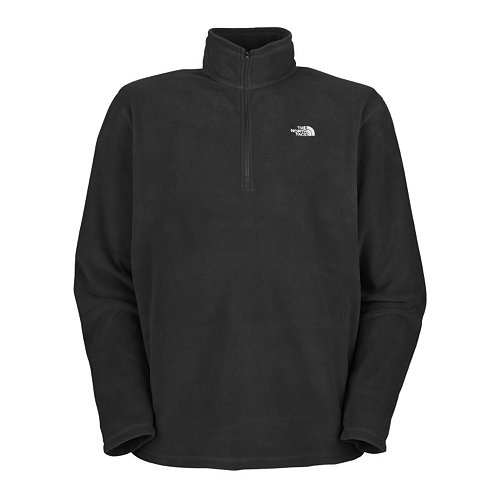 North Face Ski Fleece: $100
Now you need a shell, or a good ski jacket. This is different from your normal winter coat!! Let's face it, as a first time skier you will be falling a lot. You need something that is water proof, has seal-able wrists, a hood, and a powder skirt. You do not want a down jacket! The feathers get wet, clump, and you will freeze. Seriously. The shell will not really feel heavy, it isn't supposed to. It is supposed to keep the wind and snow off of you, and hold your heat in. The modern ski jacket is designed to work in the layered model. A normal winter coat is just meant to keep you warm for a short amount of time, and be fashionable. Not good on the slopes.
The Hood works great to keep out the wind on the lift rides. I take mine down when skiing.
A powder skirt is a bit of fabric that will prevent snow from getting under your jacket. It is all around awesome, and essential if you are a new skier. When you fall snow will get everywhere, you need something that is going to protect your core from getting wet. The skirt helps out enormously.
Seal-able wrists will wrap around your gloves and prevent snow and cold from getting up your wrists.
I have a North Face, and so does the wife. These just work great, and give you everything you need without breaking the bank.
The North Face Headwall Triclimate Ski Jacket with removable insert: $250
Head
You need something for your head... There is great debate about the necessity of a helmet. When you get going you will be topping 40+ MPH, so it makes sense that you should have something to protect your noodle. Personally, I don't wear a helmet. My wife does. Her brains are more important than mine, and she says that the helmet does a better job of keeping her head warm. My opinion on first time skiers is that you should have a helmet. You will be falling down a lot, and you really should have something to protect your brain box. You can buy these before you go, or rent them from your ski rental place. Up to you, but you should have one.
I also suggest getting a runner's beanie to wear underneath your helmet. It gets cold up there, and you can always take the beanie off it you get hot.
Mental Quadster... This is the hat I wear. It is awesome.: $25
Smith Ski Helmet: $160
Goggles are an absolute necessity. DO NOT wear sunglasses. You need something to keep that part of your face warm, prevent your face from burning off (UV is very high on the slopes), prevent fogging, and protect your peripheral vision. Sunglasses leak light, don't keep you warm, fall off your face, and fog almost immediately. They are bad.
Goggles can be very expensive, so it is up to you to find out what kind you want to get. The more basic the set, the less protection you will get from your worst enemy, fog. My wife and I splurged this year and got some Oakley goggles. They are AWESOME! Great fog control, glare reduction, all the stuff that make their sunglasses cool, plus they keep your face warm.
Oakley AFrame Snow, my goggles.: $120
You will absolutely need some type of face mask. My wife has a face mask/neck warmer combo thing. You need this because you do not want to expose your lower face to the cold, the sun, or the wind. You don't always have to wear it, but you will be glad you have it if the temp dips below 10 degrees, or the wind is howling at 40+MPH all the while you are moving at better than 30 MPH.
Face mask with neck warmer.: $20
Lower body
Same thing applies here as the upper body. You need some type of base layer. I use a Nike compression short over my fun parts, then a pair of Under Armor tights for my base. You can add more layers here, but because most of the work of skiing is done with the legs, you want to be careful as to how much you wear here. I do fine with just the base.
Hot Chllys base layer: $55
Next you need a pair of ski pants. Don't wear jeans. Just don't do it. The fabric holds in water, freezes, bunches up and generally messes you up.
Your ski pants should have the same properties as your shell. It should be water proof, and have some type of fastener at the bottom to go over your boots. The pants will be wide bottomed to accommodate your ski boots, so don't freak out if they are wide. You want your pants to go OVER your boots. Stuffing them inside your boots will simply cut off the circulation to your feet, and bruise your shins. More on that later.
The North Face Freedom Shell pants: $130
Find a pair of ski socks. They will not be thick. You do not want thick socks when you ski, as your boots will be as sung as possible. Thick socks cut the circulation off to your feet. You don't want that. Think of your socks as your base layer for your feet, your boots will do the rest of the insulation. Ski socks will go at least to your knee, and have some padding on your shin. More on this later.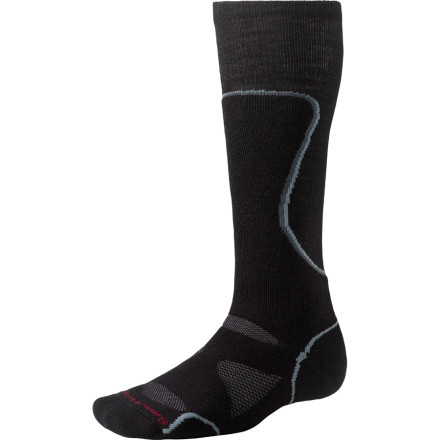 Smart Wool SWL ski sock: $20
Hands
You want to find a good pair of ski gloves. Yes, ski gloves. Your Izod fashion gloves won't work on the slopes. They will get wet and you will freeze. A good pair of gloves, or mittens, will have a pocket for extra insulation/chemical hand warmer. This will be across the back the glove. The palm of the glove will have areas of rubber so that you will always be able to maintain a grip. The fabric in between the fingers will be noticeably thinner than the back. Why? This allows the glove to breath and keeps your hand from sweating. Very important. My wife wears glove liners under her gloves for extra warmth, and moisture absorption. I don't, but I will next year. I got my hands wet this year and nearly froze them off. If I had a liner, I would have been in much better shape.
The North Face ski gloves: $60
Boots
Ok... I will suggest that you rent boots your first time to the slopes. Boots are stupid expensive, so if you don't know what you are getting in to, it is best to rent. BUT if you know you want to ski again and again, boots are a great investment. The rental boots SUCK! The rental place buys the worst, cheapest, stiffest boots they can. If you buy your own, your are guaranteed a great fit (essential), insulated, boot. Both the wife and I own boots. There is no comparison between rental boots and boots fit just to you. None. Both the wife and I have Lange boots. Mine are a bit older, but, since ski bindings don't change, they work just fine.
Lange Ski Boots: $250
Like I said, there is an initial investment. Equipment will cost a ton of cash upfront, but if you buy quality stuff, they will last you many years.