Everybody made weight for this UFC. This was one of the strangest weigh ins I have ever seen... First, Nakamura walked on to the scale in a Yukata, a summer Kimono, and... a hat... Not just any hat, but a traditional Samurai traveling hat. A Kasa. Sort of like this: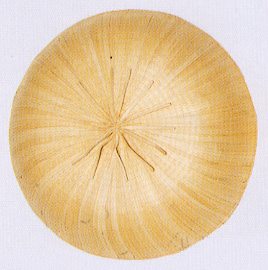 It made him look very strange.
As my buddy Ivan Salaverry stripped down to his bikini Jockey shorts some cat calls and cheers broke out. Ivan promptly saluted the crowd in his usual way... Blowing kisses. The crowd responded with huge applause.
Next Wilson Gouveia and Goran Reljic were to weigh in. Both made weight, then during the pose off, stare down whatever it is called, Goran Reljic actually headbutted Wilson Gouveia. Headbutted him!! Not a bad headbutt but touched his head to Wilson's and pushed. To Gouveia's credit and professionalism, he only lifted his hands to say "What was that about?" I honestly hope Wilson smashes Goran in to bits.
Speaking of classless, Tito Ortiz came on strange, and famous for his T-Shirts, had revealed his latest one... A black T-Shirt with large white letters that said "Dana is my bitch." Very nice Tito.
As Sean Sherk came to the stage, the crowd went nuts. Booing. They hated him. Other reports has the crowd chanting "Ass Hole." I did not hear that.
BJ was cheered like, I don't know... Jesus? No more popular... Elvis? No more popular... Obama. Yeah. Cheered like he was Obama. Some women might have even fainted.
Official Weights:
B.J. Penn (155) vs. Sean Sherk (155)
Wanderlei Silva (205) vs. Keith Jardine (205)
Tito Ortiz (205) vs. Lyoto Machida (203)
Thiago Silva (205) vs. Antonio Mendes (203)
Wilson Gouveia (205) vs. Goran Reljic (205)
Ivan Salaverry (185) vs. Rousimar Palhares (185)
Rameau Thierry Sokoudjou (204) vs. Kazuhiro Nakamura (206)
Rich Clementi (155) vs. Terry Etim (155)
Jon Koppenhaver (170) vs. Yoshiyuki Yoshida (170)
Jason Tan (170) vs. Dong Hyun Kim (171)
Christian Wellisch (230) vs. Shane Carwin (252)